FEKRA ECM Software | Enterprise Content Management Software
It is time to get rid of the traditional boring routine in your company. You need to stop wasting your time, money, and effort dealing with messy paper, printings, archived files, and so on. Manage your enterprise content using other smart and digital tools and software.
FEKRA ECM software is the best ECM system in the Arab World and in the Middle East. It is an AI professional and time-consuming software that is based on advanced ECM technology. It is programmed to handle all types of enterprise content and solve all the problems that may appear.
System Technical Offer
E-invoicing
FEKRA Software helps institutions to manage their messy repositories of papers, documents, archived files, and pens.
Supports electronic billing in association with the Zakat and Tax Authority
Why FEKRA ECM Software | Enterprise Content Management Software?

Cost Reduction
Save your expenses on paper, files, printing, and ink. FEKRA ECM software helps you to save the salaries of many employees as they are not needed anymore. Besides, it empties paper stock rooms and office spaces needed to store important and sensitive papers and documents. You will enjoy a paperless management system supporting the digital transformation that is based on world-class advanced technology.

Cloud Software
Store, organize, automate and save all your data and information on the secured cloud. You can quickly access your cloud data from anywhere. You can connect all branches of your facility on the cloud to easily share operations and data between branches. You can manage the software users and data safely and at the lowest costs. The software maintains regular backup copies of your data on the FEKRA secured cloud.

Customizing Data Access
FEKRA Software offers you secured access control over important documents, data, and files. Each user is given authorized access according to his role and job in the company. You can also have a detailed record of certain or/and each user's activities across all company's devices. This helps you to ensure the security and integrity of data. It gives you complete confidentiality and tight effective control over your Enterprise content.

Smooth Integration
It is super easy to integrate FEKRA ECM software with other software and applications that are indispensable in any business. Integration with the other management systems will make it easy for your employees to do tasks and automate procedures. FEKRA ECM software can, for example, be integrated with CRM systems (Customer relationship management), ERP systems (Enterprise resource planning), and many other systems.

Digital Repositories
Farewell to your traditional messy archive of documents and files. Give up your old methods of storing important documents and files that may expose your data to damage and theft. FEKRA ECM software offers you digital cloud storage that can secure sensitive data and files. You can access your data easily at any time and from anywhere.

Model Building
FEKRA ECM Software raises the efficiency of your company's automated procedures and facilitates various data entry and other different requests. It accelerates the workflow by creating electronic input forms. You can customize the models in a way that facilitates your data entry, submit documents, and filling out various business forms.

Cyber Security
Our ECM software provides the highest standards of security of cloud data and documents. It comes with the most powerful data security programs and tools able to protect sensitive data, documents, and files. Your company's data and documents are fully secured against any cyber-attacks, access, theft, damage, or/and extortion.

Reports and Analytics
Our ECM software increases the efficiency of your company's procedures. It helps in improving its operation through detailed reports and accurate analytics. FEKRA Software's reports and analytics identify your company's weaknesses and deficiencies and present some practical solutions. This will help the institution in its journey of development.
FEKRA ECM software is the most powerful Enterprise Content Management Software. It automates your company's procedures, monitors the workflow, and generates detailed reports.
FEKRA Enterprise Content Management Software offers the best management experience for all types and sizes of enterprise content. It handles everything related to your company's documents, various files with different formats, images, videos, and more. You can save, store, share, backup, restore and access all your data easily at any time. The data could also be remotely accessed using any authorized smart devices. The software comes with advanced search tools that help you reach your specified data so fast.
More features of Enterprise Content Management Software
Docsuite system was built to suit and meet all the needs of institutions and companies with the best standards.


Task Management
FEKRA Software offers the best methods of managing the company's operations. You can assign and track tasks, and monitor their progress through the software. You can follow up on tasks from the very beginning of your assignment until completing the required procedures. You can also link various tasks with other outgoing and incoming processes within your company.

Process Automation
FEKRA ECM software automates all the processes to simplify task accomplishment and eliminates manual workload. This leads to avoiding committing potential mistakes and losses. Managers can customize the process settings and workflows. This helps to make the software suitable for use in different departments and branches of your company.

Records Management
Our ECM Software organizes your company's work professionally. The software stores your documents and data according to a distinctive organizational structure. Such as the structure according to their departments and branches. This will ensure smooth and fast access to your data, and easy follow-up on the workflow for a professional continuity of work.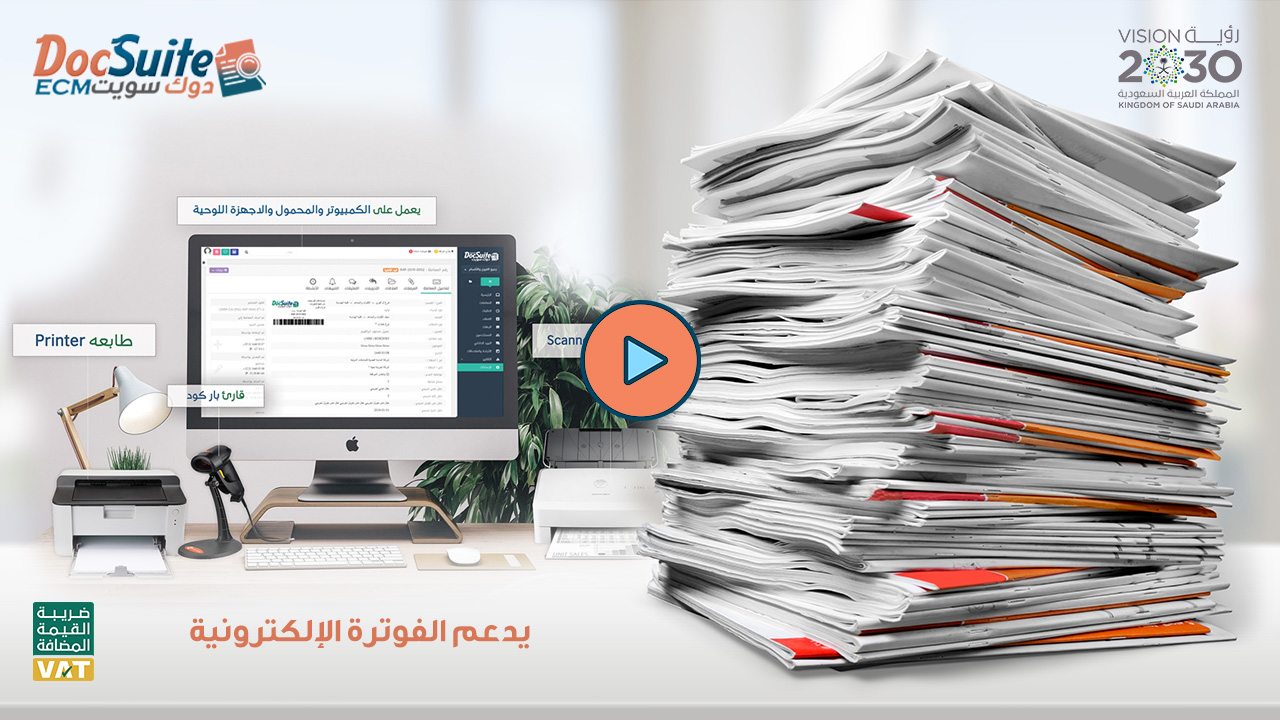 A quick tour of the Enterprise Content Management Software
A digital platform for managing the content of companies and institutions in a smarter and more effective way, applying digital transformation within facilities, e-governance and automation through a huge range of fully secure technical and digital solutions that operate in the cloud. Get rid of boring routine, waste of time and effort, costs of paper, printing, pens and ink, etc., and start working in smarter, more professional ways and investing time based on advanced technology and artificial intelligence by using the leading enterprise content management program in the Arab world and the Middle East.

More Videos
Live shots from Enterprise Content Management Software, unlimited benefits
Screenshots of the Enterprise Content Management Software
See some pictures and screens through the Enterprise Content Management Software, Benefits without limit
Innovative and advanced products, the latest accounting and management software and solutions
Millions of customers use our systems, join them
For more than 15 years, we have helped millions of people educate clients, business, and higher education in obtaining professional-quality results that do not require professional skills.

View Products
See 'Fekra' stock Doc Suite ECM content in the Screenshots