Incoming and Outgoing Electronic Archiving (DocSuite)
An integrated cloud system for managing electronic documents, archiving, administrative communications, as well as supporting the digital transformation of companies. The system is designed in accordance with the vision of the Kingdom of Saudi Arabia 2030 through a set of smart software aimed at organizing the way of managing paper content and various operations procedures within organizations. It provides smarter and smoother administrative communications, and applies the procedures manual within the organization effectively.
System technical offer
E-invoicing
Paperless management, more streamlined and efficient administrative communications.
Why DocSuite Archiving System?

Managing Incoming and Outgoing Correspondence
The integrated system covers all types and forms of transactions and correspondence in institutions, whether internal or external administrative correspondence (incoming and outgoing). It is based on four main axes to ensure best management of incoming and outgoing transactions. It records and archives the transaction, monitors the transfer and movement of the transaction, queries and exports the transaction until completion. It assists you to make a decision whether for preservations or as a public source.

Electronic Archive
A storage of documents and files with easy access and sharing among users, through a comprehensive electronic archive that supports the archiving tree at all levels. It supports the organizational structure in the management of correspondence and electronic archiving of all external and internal transactions (incoming and outgoing), archiving files or attachments for transactions (whether in Office PDF or media formats, video or audio) and can be viewed without downloading.

Task Management
Managing employees' tasks within the organization through an integrated system that makes it possible to add tasks and assign them to certain employees. The ability to schedule appointments of the person in charge and follow-up on their work in the event of their absence. It allows you to send notification to the employees with their tasks at the time of their assignments, which also allows managers to closely monitor the efficiency and performance of employees for the tasks assigned to them. In addition to the possibility of linking the different tasks within the company with internal transactions and external inputs and outputs.

Workflow Engine
Track the workflow within departments in a smarter technological way with less effort through an intelligent system. The system allows transactions to be automatically forwarded to the responsible employee in the department in question as soon as they are added to the system. Then it automatically transferred it to the higher authority after the employee has taken the necessary action, and takes the final action, responds to the applicant, archives them in the outgoing, and so on.

Administration of Administrative Circulars and Regulations
An intelligent system that enables organizations to publish, archive, and document administrative newsletters and regulations and laws for all employees of the institution. It ensures that all employees have seen the newsletters, regulations, or laws published by the system through notifications that reach each of them by mail or SMS. The system informs each employee of every new newsletter, regulation, or law issued and published by the institution in real-time.

Work Online and Offline
DocSuite is essentially a fully functioning cloud software that enables controlling and monitoring businesses remotely from anywhere and by using any device connected to the Internet. You can also access your cloud system offline without an internet connection in case of losing or experiencing a weak connection or any other unexpected incidents.

Finalizing the procedures electronically
An integrated system of tools for automating administrative work within a governmental or private institution. It's designed for all completed transactions, incoming and outgoing correspondence, and for converting administrative requests within the institution. It transforms manual and paper requests into digital requests. It is reinforced with technologies to speed the process, facilitate the tracking of requests, and monitor the performance of employees and their fulfillment of requests assigned to them. Also, it creates the kind of transparency required within the institutions.

Text chat system
It helps the employees to communicate internally, assign tasks and inquire about various transactions and documents through a written chat system. It simulates the WhatsApp application for the employees of the organization only to provide a channel of communication between them through text messages or voice recordings and send various types of attachments. It is secure and completely confidential. As well, it allows managers to communicate directly with their employees to assign urgent tasks and workflow follow-up.

Receiving incoming transactions from email
Receiving external mail and automatically transferring it to the authorized department. It will allow you to customize external mail reception settings according to the type of request or department and the authority concerned with deciding on it. As well as the possibility of filtering incoming e-mail messages to avoid inconvenience and Inappropriate advertisements, messages, etc.

Alerts and notifications system
Be on top of the action and keep your employees informed of every update and task with a 4 channel alerts and notifications system (e-mail, SMS, mobile smartphone notifications, and system notifications) ensuring that all employees are notified of any task assigned to them and receive notifications of the progress of the transaction from assigning it to the higher authorities until making a final decision on it.
Cybersecurity
Maintain the security and integrity of the important data, information, documents. It keeps them away from theft, damage, or loss by fully activating cybersecurity mechanisms, data backup, and storing other backup copies on cloud storage units. It will help you avoid the risk of sudden power outages or natural disasters that your institution may be exposed to.

Smartsheet Package
Fekra program for electronic archiving and administrative communications (incoming and outgoing) DocSuite provides a smart package of innovative tools in dealing with data from the first building of input forms in the manner of Google Forms. It conducts questionnaires and opinion polls inside and outside the organization. It assorts all the data and answers and analyzes it automatically and outputs it in the form of spreadsheets valid for making decisions.
Smart management solutions for the Finance and Accounting department within different institutions.
The ability to archive accounting invoices, entries, financial bonds, and final reports, as well as creating full indexes, either manually or electronically by linking them to the API platform for cloud ERP programs. Also, it supports the ability to create and build comprehensive and accurate reports and retrieve documents from past years upon request from the concerned authorities by searching for the name of the document or the invoice number or the registration number, or the date it was saved and added to the system, or any information mentioned therein.
Advantages and Features
An innovative set of systems and integrated service packages that aim to provide a smooth and secure management experience within different business organizations of all types, sizes, and specializations.

Data analysis
An intelligent system that analyzes work and the employee's data, the inputs and outputs of the company or organization. It benefits from big data in improving performance, developing work, making the right decisions in different situations, and constantly rehabilitating employees.

OCR. package
The OCR system for optical text recognition, converting images attached to the system into texts is easy to handle, modify, add to and save, and extract text from PDF files and images in JPG, BMP, TIFF, and GIF formats.

API binding library
A smart API library link via a standard programming interface RESTful JSON API that can easily link and integrate with any other software and systems needed to complete work within organizations such as cloud ERP systems.

Report Builder Package
Various forms of reporting on performance, workflow, employee quality, and quality of services provided give managers insight into everything within the organization that supports decision-making and develops appropriate action plans - and allows the building of all forms of reporting, financial, accounting, and work reports.

Quality Rating Engine
A tool that helps organizations evaluate the performance of employees by tracking and monitoring performance and the duration is taken to complete a particular task from the first notification of it to deciding and completing it, as well as building detailed quality reports for each employee and easily identifying the cause of delay in any of the transactions.

Ease of use
You can manage, customize, and quickly access data, documents, customer and employee files, and obtain various financial and accounting reports, work reports, and employees quickly and easily from one place and any device through a powerful and easy-to-use control panel that all users can deal with.

Merge attachments when uploading
The possibility of merging attachments from all formats on the system into one file in PDF format when downloading from the program. This allows easy handling of documents and access to them from one place. It also allows merging images in various formats with other forms of other attachments, whether word, pdf, or others.

Group messaging system
A system for sending group messages with the ability to customize the arrival of messages as well, whether to all employees or a specific group by department or administration via e-mail or SMS text messages, as well as the ability to prepare messages to be sent at a later time.

Integration with the scanner
The ability to integrate with the scanner to scan and receive files directly within the system and the ability to create new incoming and outgoing correspondence and give it a unified number that can be printed as a barcode to be easily tracked later for more control and to facilitate the tasks of the users.
Save an area of 500 square meters that stores 3 million documents, and substitute it with a 15 GB unit that is easily accessible, extracted, and shared.
The Old Systems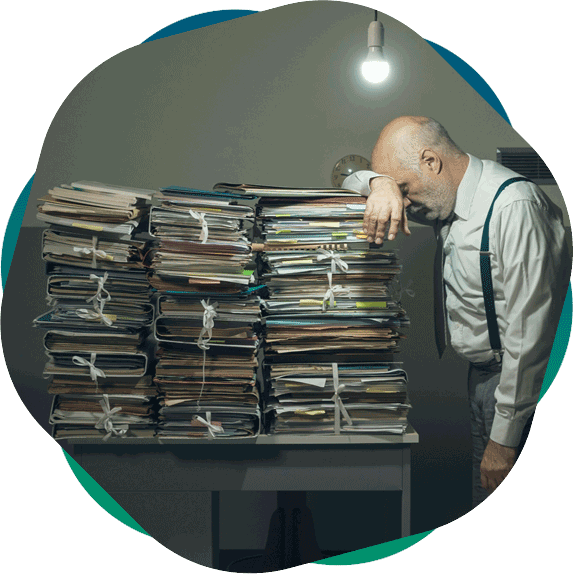 Companies and institutions suffer from high expenses for paper, printing costs, ink, and pens. In addition to the slow completion of tasks within the various departments, as well as the absence of confidentiality and security of the data. It doesn't keep the important documents within the organization 100% secure. Also, it doesn't provide the large spaces needed to keep the files, documents, and papers for incoming and outgoing transactions. In addition to the suffering in obtaining various approvals quickly due to the slow workflow and the lack of automation, as is the case in managing work digitally. Not only this is what companies that rely on the old system to save and archive documents suffer from, but also suffer from the damage of important documents over time, and the inability to keep backup copies, which makes it difficult to store and retrieve damaged documents at any time.
DocSuite Electronic Archiving and Administrative Communications Program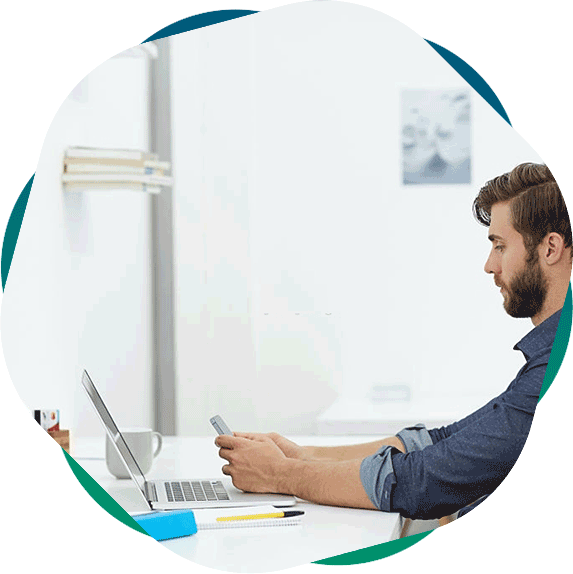 The best and most efficient solution in managing all companies, and government and private institutions of all sizes is through a huge set of technological software that helps you manage incoming and outgoing transactions, manage tasks, automate procedures, save documents in different formats, archive them and share them, and follow up the workflow effectively at any time, from anywhere and through any device. This saves time and effort and expenses of paper, ink, printing, and pens and helps to speed up the process of completing procedures and reduce the time to complete tasks, and speed up approvals of applications in addition to providing the spaces required to save documents and backup which support the application of the e-government methodology and serve the goal of digital transformation.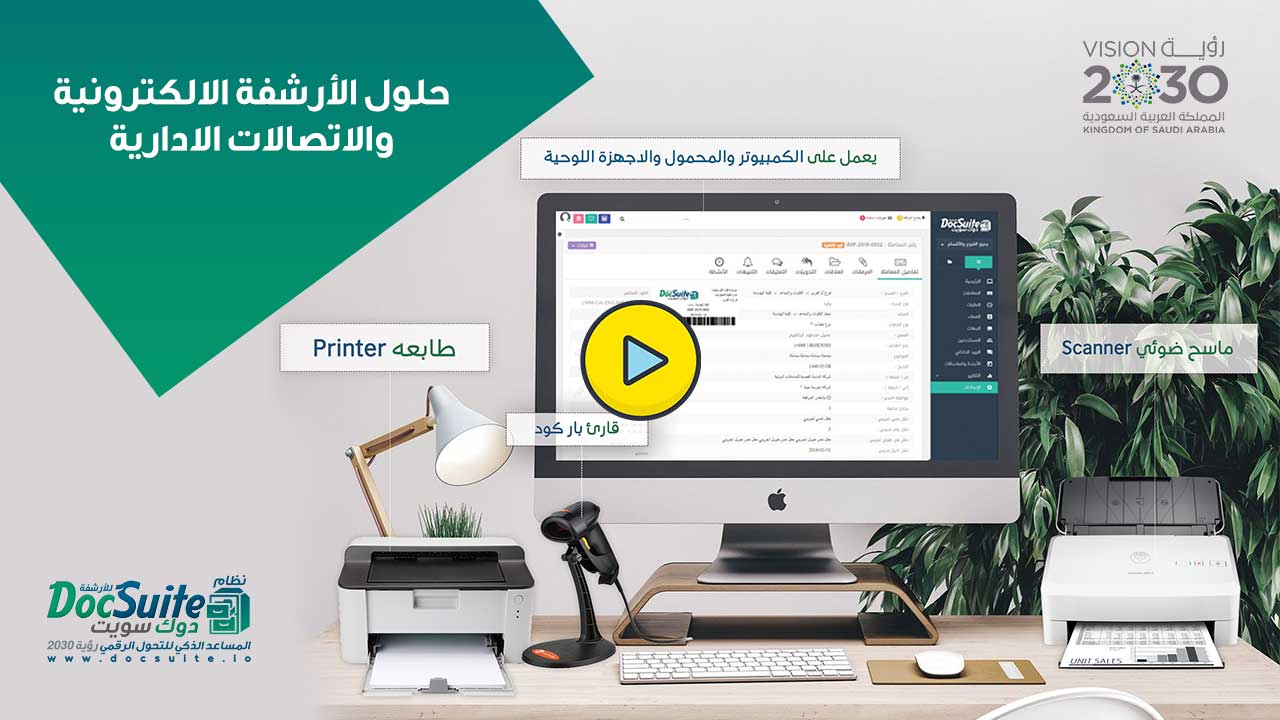 A quick tour of the Docsuite system
Docsuite is a modern web application designed to provide a solution to these problems, with modern technologies that enable you to switch from paper management to complete electronic management, and simplicity and flexibility that make the system easy in the application, and a successful investment.

More Videos
Live shots from DocSuite system, unlimited benefits
Screenshots of the Docsuite system
See some pictures and screens through the Doc Sweet system, Benefits without limits

Innovative and advanced products, the latest accounting and management software and solutions
Millions of customers use our systems, join them
Smooth, secure, fast, powerful, giving you the power to control the Institutions' input and output anytime and anywhere. Fekra Program for Corporate and Organizational Content Management is the backbone of any business whatever its type, shape, or size, on which the organization's management is based with strong, transparent, and strong control.
View Products
See DocSuite's Fekra system for electronic archiving and management communications (incoming and outgoing) in screenshots below
Order Now
Please fill out the following form, and the sales team will contact you directly to complete the purchase process.

---
More information about DocSuite for electronic archiving and administrative communications
If you are looking for a professional archiving program or electronic archiving system, you have certainly heard about the Fikra Electronic Archiving Program, one of the best electronic archiving programs and the most powerful file archiving program in the Arab world and the Middle East.
But before we talk at length about the Fikra program for electronic archiving as the best electronic archiving program and the most powerful program issued and received among all electronic archiving programs, we must draw your attention to the fact that the paper archive system and the old traditional methods of document management, preservation and archiving no longer work at all.
And that in light of the terrible technological development, there is no longer a successful government institution or body that does not use an electronic archiving program or what some call a document management and electronic archiving program, whether it is an idea program for electronic archiving or any other archiving program.
With the digital transformation, the era of papers and traditional methods of archiving various folders and documents ended, and we got rid of the tedious routine and the problems of accessing information or any important document.
This is thanks to electronic archiving programs that facilitated the preservation of all papers and documents in the form of secure smart documents that can be accessed at any time and from anywhere quickly and easily.
During this article, we will get acquainted with the electronic archiving system, and we will explain the Fikra electronic archiving program as the best electronic archiving program and the most powerful electronic archiving program in the entire Arab region.
In addition to learning about the incoming and outgoing program, and how to identify the best document management and electronic archiving program among the various other electronic archiving programs. ready?! Let's go!
Let's start now by defining the electronic archiving system and its importance...
What is electronic archiving?
The electronic archiving system or electronic archiving programs in general, including the incoming and outgoing program, is a software system used to electronically store, preserve and index folders, archives, documents and files of any governmental or private institution or business.
This file archiving program or electronic archiving and document management program allows individuals and institutions to view any of these documents at any time and from anywhere via smart mobile devices or various tablets, as well as obtain accurate detailed reports of all archives on their databases.
The electronic archiving system or any archiving program, including the document management and electronic archiving program, is considered
And also the export and import program as an effective means of transferring and transferring history, ancient cultures and civilizations, as well as antiquities into a database that can be kept in different media so that it can be accessed and circulated with great ease and security.
This is, of course, what can be obtained from the idea program for electronic archiving, which is considered the best electronic archiving program and the most powerful electronic archiving program available in the region.
However, what are the most important functions performed by the electronic archiving system or the various electronic archiving programs in general?!
This is what we will learn about in the next paragraph...
What are the most important functions and settings of electronic archiving?
Any archiving program or electronic archiving system that your organization, company, or private business relies on must perform a basic set of functions, namely:
Various data processing and archiving tree preparation
Indexing and storage of files and documents
Managing archives, users and permissions
Issuing detailed reports
These were the most important functions performed by the electronic archiving system or the idea program for electronic archiving
  As well as any electronic archiving program, whether the incoming or outgoing program, or the file archiving program
  Which the majority of companies, business establishments and government interests depend on as well.
The following is a detailed explanation of each of the functions:
  Archiving Tree Design:
The most important and largest function performed by the electronic archiving and document management program and any electronic archiving program is the design and support of the archiving tree with all its levels and different classifications.
The archiving tree means the classifications, sections, and data levels of any facility, which differ according to the nature of the work and the size of the documents.
The aim of this tree, which is supported by any archiving program among the various electronic archiving programs, including the incoming and outgoing program, as well as the document management and electronic archiving program, is to facilitate the process of searching and accurate access to documents according to the powers granted to users on the system.
Cataloging and storage:
Among the important functions that the electronic archiving system performs, as well as the Fikra program for electronic archiving, which made it the best electronic archiving program, is indexing documents and storing them in a permanent storage of the system in order to retrieve any of them and view them in various ways of reading in an organized manner from anywhere and at any time.
This function is the core function on which any electronic archiving program and any file archiving program in general is based.
Managing all electronic archive operations:
Another very important function among the most important functions of the electronic archiving program, document management and any archiving program is the management of all electronic archive operations, as it is possible through the system manager to manage and control all the processes related to archiving as well as the roles on the electronic archiving system used and the management of the powers granted to the members of the facility and also Managing users and tightly monitoring the work of each of them.
The easy and powerful control of all this through the file archiving program or the electronic archiving and document management program is what makes the Fikra electronic archiving program the best electronic archiving program and the most powerful electronic archiving program and the easiest outgoing and incoming program in terms of use and