Medical Centers and Clinics Management Software
A set of windows-based smart software systems. It provides full administrative and financial control over all your inputs and outputs. It is designed to answer the needs of all kinds of medical facilities, medical centers, clinics, infirmaries, and hospitals. It manages all procedures related to patients such as welcoming them and creating a special file for each patient. Besides, it manages all the data related to doctors and staff.It offers integrated financial accounting. It manages the clinic's contracts with laboratories, X-ray coefficients, insurance companies, and pharmacies. It also supports an integrated billing system. A system capable of dealing with various forms of taxes, including value-added tax.
System technical offer
E-invoicing
FEKRA hospital & clinic management software offers the best management experience of medical facilities. The software fully supports the Arabic Language.
Why FEKRA Software for Managing Medical Centers, Clinics, and Hospitals?
Control everything on the software of your medical centers and clinics effectively and easily from one place with minimal effort. Follow the performance of your employees and doctors and their workflow within the medical facility. Monitor all accounts, purchases, and sales.

Reception Screen
FEKRA Hospital management software speeds ​​up your reception procedures. Such as welcoming and discharging patients. It is no longer hard to create and print accurate bills. Through the FEKRA reception screen, the receptionist can add a new patient file and book his appointments. He could easily choose the clinic and the doctor according to the required specialization. It is also easy to book a future appointment for patients defined by a specific day and hour. The receptionist can create a review statement for a patient to check the examination cost and the percentage of the value-added tax. The software supports printing many copies of the payment voucher.

Comprehensive Reporting System
FEKRA Clinic management software offers you accurate and detailed reports on every nook and cranny within your hospital or medical facility. The process is done at any time and in the fastest way possible. The software supports all forms of reports. It supports financial reports such as account statements, financial statements. It also supports reports about patients, reception, appointments, expenses, income, sales, purchases, and returns. The software supports creating reports regarding the insurance companies, and the kind of services presented, and their bills. It handles the bonds and calculates the specified commission for certain doctors in the medical center.

Financial Accounting System
FEKRA software for managing hospitals and clinics provides an integrated financial accounting system. It tightly and professionally manages all your business accounts. It facilitates determining the financial condition of your medical facility during any specific time. The system supports the numbering of all the different levels of the chart of accounts. You can issue a general account statement or check certain doctors' dues. It can calculate the total value-added tax, and extract tax returns and disbursements. You can also review all the payroll and billing reports for each clinic separately.

Discounts Screen
FEKRA management software makes full use of the patient databases available on the system. It helps you in using this data in directing your advertising campaigns precisely to suit your target customers. It displays offers of discounts on various services at the decided rate and time. You can also select certain / or all departments upon whom the discount is applicable. The manager could also activate the discount according to the job title, or for specific patients. Decide all the details of the discount offers with one click from one place using our innovative discount screen.
Windows-Based Software
FEKRA Clinic Management software is designed to work on all devices running any version of the Windows operating system. It does not need the Internet to maintain the continuity of work.It ensures nonstop efficient work without any soft or technical problems.The software secures all your sensitive business data and information. It keeps data away from any fraudulent internet attacks.It stores and protects all your customer data and their personal files

SMS system
FEKRA Hospital management software keeps you in constant contact with patients. It supports a smart SMS system on the software. It notifies doctors of their reserved appointments in the clinic and the details of their work.It makes patients enjoy an unparalleled medical experience of caring. It allows you to follow up with patients on their mobile phones. It sends alerts of their medical examinations and consultancy dates.It informs them about their test results, the appointed time for receiving x-rays.It also manages a social relation with patients by sending congratulations on special occasions and holidays.

Electronic Archiving
FEKRA management software for medical centers enables you to manage your customers' data more effectively and easily.In the first visit, the software creates a special file for each patient with all of his data and information. It later adds all his documents such as his x-rays, test results, and prescriptions of the medicines he has been given.The software keeps an electronic version archived of all files. It protects the files of all patients, including all patients' visits and their sick history since the first visit.It supports exporting their files to an outside source.

Doctor Screen
FEKRA Software offers a smooth workflow in the hospital. It facilitates the communication between the doctor, reception, and patients in a more effective way.Through the doctor interface feature on the software, the doctor is allowed to follow up with all the reserved appointments.He can manage the attendance of patients for examinations. He can view the patient's medical record, update it, add a new diagnosis to his condition.The doctor can use the interface to issue or print a prescription. He can send certain patients to get other treatment services required (such as X-rays or tests). He can also import a full report of his dues.

Access Control
FEKRA hospital management software offers you full control over your access permissions.You limit access to the screen and other software ports. You control and follow up the workflow on the software, and manage all the data of clients, clinics, or doctors.You give special access to each employee according to his role. It also supports a discount rate system.It manages the patient bills and enables entering the required discount code of the supervisor or manager.
Your documents are safe, your procedures are more streamlined
Traditional Methods of Clinic & Hospital Management Systems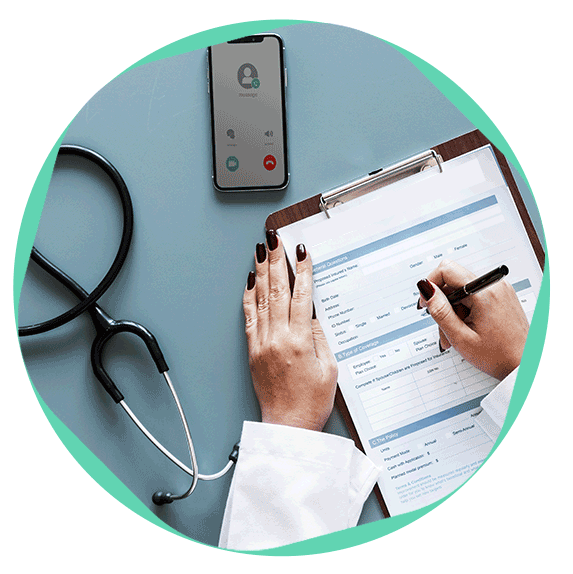 Farewell Traditional Methods of managing your medical centers and using modern technology. If you are willing to invest your time, it is the first step to success. Therefore, don't waste your time and effort in managing your medical center using traditional methods. Now you can depend on modern technology-based methods. Modern methods to manage all kinds of medical centers, clinics, infirmaries, and all other small or large medical facilities.FEKRA clinic management software provides you with complete control over every nook and cranny within your work system. It facilitates effective follow-up on your employees and the workflow. It provides rigorous monitoring of your inputs and outputs.The Software provides an unparalleled medical experience for patients. It takes care of all his procedures: welcoming to your clinic, recaptioning them, and obtaining the required medical services. It also follows up with them and notifies them of the appointments of consultations. It provides them with their medical conditions. It issues their bills and collects their due payments via the available methods. Besides many more features.
FEKRA Software for Managing Medical Centers and Clinics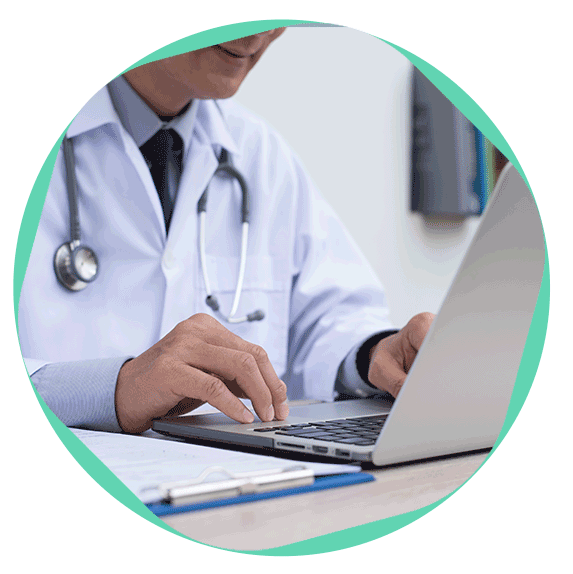 FEKRA offers the optimal and most efficient solution for managing all small and large medical facilities. The management software could handle medical centers, clinics, or even health infirmaries.FEKRA hospital management software is more than just one program, it is rather a set of smart and innovative systems and applications. It is fully supported using the Arabic language and works on all devices that run any version of the Microsoft Windows operating system. It works on all local network systems to provide an effective and powerful management experience.The software also supports registering multiple users. This will facilitate the workflow in clinics and medical centers. It contains no operational or technical complications. It does not reduce the quality of services provided, it rather increases it. However, it secures business data and the information of your customer against any outside attacks. So, all your data would not be stolen, defrauded, or exploited in illegal ways.
Features and advantages
FEKRA hospital management Software combines a set of unique features and characteristics. It suits the nature of various medical facilities of all sizes. Besides, it provides innovative systems that work in an integrated and homogeneous manner. They ensure having tight control and an effective management experience. You can follow up and monitor all various administrations, departments, and clinics. It helps you manage their tasks, activities, and human resources.
How is FEKRA Software Turley Unique?
The medical centers and clinics management program was built to suit and meet all the needs of institutions and companies with the best standards.


Supports Various Taxes
FEKRA clinical management software fully supports all various forms of taxes imposed on the presented medical services. It supports your local value-added tax.Taxes could be included in receipts and disbursement vouchers. You can apply the feature to all / or specific services available on the system using the category section.
Billing Management System
FEKRA hospital management software provides an integrated system that supports the ability to export and print bills. The bills can be customized by adding the logo of your medical center or a certain doctor.You have full control over the bills. They can be modified, printed, or canceled. The software also supports an advanced search feature to easily access any bill searching by its number of patient names. You could also get detailed bills reports for any specific time.

Returns Management
With FEKRA management software, you do not need to worry about the returns of your clinic or medical center. The software supports an innovative returns system that allows issuing discards of certain invoices.Everything is operated accurately and smoothly in terms of sales and purchases. You will just need to select the invoice that you want to make a return for, and it is done with just one click.

24/7 Free Technical Support
FEKRA has a trained technical support team and customer service team that will respond to all of your inquiries at any time. They will help you use the software effectively when managing the workflow within your medical facility.We are happy to answer all your questions and inquiries to meet all your business needs instantly.
Multiple Payment Methods
FEKRA management Software provides your customers with various payment methods. Various methods for collecting your medical service fees are provided in your facility.The fees could be collected from various sources. Such as the patients themselves, or the insurance and solidarity companies contracting with your medical center. This is to provide the best user experience and ensure his loyalty.

Categories Screen
FEKRA hospital management software provides you with two main categories. The first is the service-based category, such as the patient's new examination service. The second is a product-based category, such as medicines provided.Each item could be categorized under any of these categories and other sub-categories. This will help you activate the right tax on each product or service.

Data Backup
Do not worry about the databases of your medical centers. FEKRA clinic management software supports storing a backup copy of the available database.If you accidentally lost your data, or if there is a problem with your authorized device using the software. You can always restore an updated version of your data once you install the software again.
Multi-User
FEKRA management software supports multiple authorized access to the software. You can manage the access control and limit the access of users according to their roles.No one can access any data or feature except the ones that you had specified. The employees in your facility can also activate discounts on patient bills. This would be allowed after taking the permission of the manager of your medical center or clinic.

Clinics Management
If you have a large medical center or hospital, FEKRA software will help you manage your clinics. You can easily add clinics and classify them according to their medical specialization.You only need to enter their data (clinic name, category, examination cost, mobile number, e-mail, and more). You can also manage their working times within your facility and the duration of examination for each patient. This will help you manage all appointments accurately and professionally.
A quick tour of the Hospital & Clinic Management Software
Smooth, secure, fast, and powerful Hospital and Clinical Management Software. It enables you to control the inputs and outputs of your business at any time and from anywhere.
More Videos
Live shots from Hospital & Clinic Management Software, unlimited benefits
Screenshots of the Hospital & Clinic Management Software
See some pictures and screens through the Hospital & Clinic Management Software, Benefits without limits
Innovative and advanced products, the latest accounting and management software and solutions
Millions of customers use our systems, join them
For more than 15 years, we have helped millions of people educate clients, business, and higher education in obtaining professional-quality results that do not require professional skills.

View Products
See the medical centers and clinics management system in screenshots