Cloud-based Enterprise Resource Planning (ERP) has become an essential part of business infrastructure. As companies compete in the online marketplace, various processes that were previously separate—accounting, warehouse, databases, documents, and spreadsheets—can now be streamlined onto a common interface for instant, universal access by authorized personnel.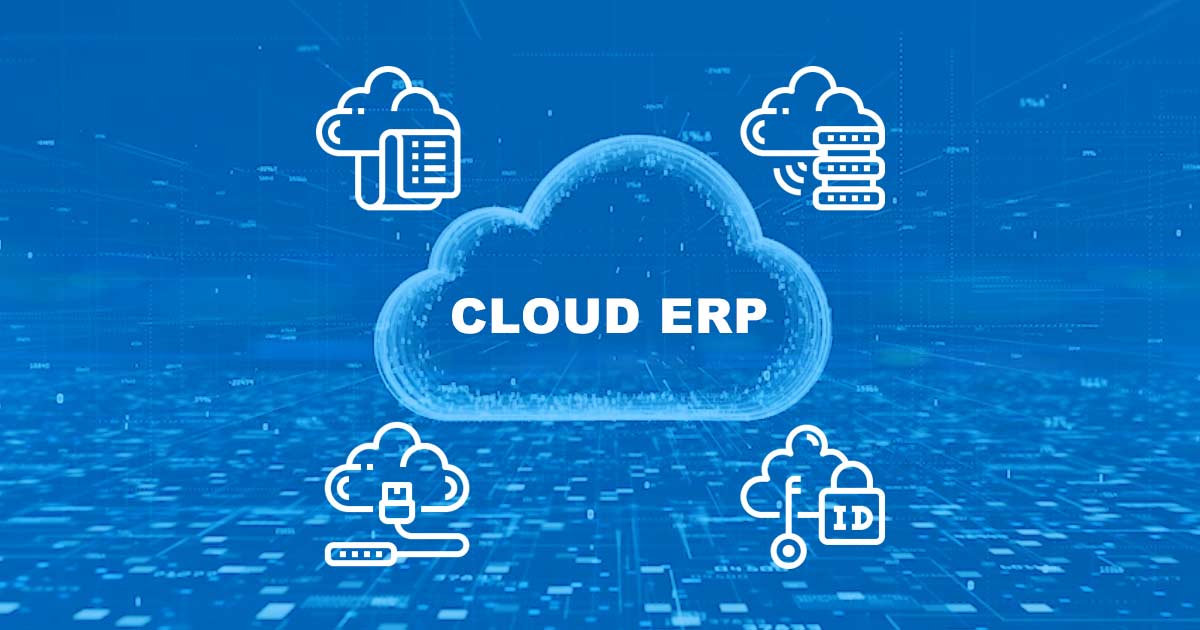 What is Cloud ERP?
In general, ERP systems integrate processes across financial management, inventory and orders, supply chain management, human resources and more, resulting in improvements in business processes for 95% of the companies that use them.
Unlike on-premises systems, cloud-based ERP runs on vendors' cloud servers that are accessed over the Internet. There are multiple versions of Cloud ERP. Some cloud vendors just run the same software on-premises in their data center and serve it to customers over the Internet, known as hosting.
1. Continuous innovation
Many companies are moving to cloud ERP software to improve operations, change legacy business models and processes, and introduce new capabilities that support best business practices. Cloud ERP improves and accelerates not only financial and accounting practices, but operations across a company—and can extend beyond that to business partners and networks.
2. Lower costs
With the subscription service, there is no upfront purchase cost for hardware or ERP software. Ongoing IT costs and associated personnel are also lower as the upgrade and maintenance costs are covered by the provider. The cost savings can be significant - especially with ERP deployments on the public cloud.
3. Security improvements
One of the greatest benefits of cloud ERP is the superior security it provides to businesses of all types and sizes. When it comes to storing and retrieving classified company data, it is important that critical operations remain secured at all times. With Cloud ERP, you never have to worry about data breaches by a third party, because the system tracks all activities and fully encrypts your data.
4. Real-time analytics
Cloud ERP provides real-time analytics that allow companies to see vital information as it becomes available. As numbers change and dollars fluctuate, this information is readily available as you make important decisions in the course of the business. For companies in the manufacturing industry, cloud ERP makes it easy to improve operations by providing real-time analytics.
5. Access to emerging technology
Advanced analytics, artificial intelligence, machine learning, and other technology innovations provide the ability to harness massive amounts of data to make more accurate predictions, discover hidden insights, enhance operations, and develop groundbreaking new offerings.
Cloud ERP provides a faster, more economical way to take advantage of these prominent technologies and removes many cost and resource hurdles with artificial intelligence, machine learning, advanced analytics and other business intelligence tools already built into the service. This means that companies can take advantage of the myriad of benefits offered by this new technology without the physical infrastructure, costs, or technical talent required for building systems.
Features of Cloud ERP software from fekrait Software platform
In addition to what we mentioned about the benefits and advantages of the cloud ERP program, which are all available on the fekrait Software platform, it is okay to mention some of the other features of the system from Fekra Software:
Cloud ERP lets you move from legacy systems quickly, easily, and affordably, meaning no downtime is lost.
Cloud ERP reduces the workload of internal IT staff, incredibly helpful in reducing stress on IT while maintaining business productivity.
Cloud ERP is available anywhere, anytime, where workers can access the system anytime they need from wherever they are.
Cloud ERP is compatible with other tools, using standard tools to make it easy to quickly integrate with other technologies so that you can stream data from other systems into your ERP for a more complete, accurate, and up-to-date view of your company's data.