The concept of cloud migration and its types
For companies that want to make significant leaps in their digital transformation journey, a partial or complete migration to the cloud is an essential first step. Cloud migration is the process of moving data, applications, or other business objects from an on-premises environment to the cloud.
We can look at it by analogy with a moving house. You still live in the same city, but you move from one house or apartment to another.
Migrating to the cloud can be done for a number of reasons such as reducing costs, increasing scalability, or improving performance. But regardless of the reason, companies need to plan well their migration processes to avoid any business disruptions.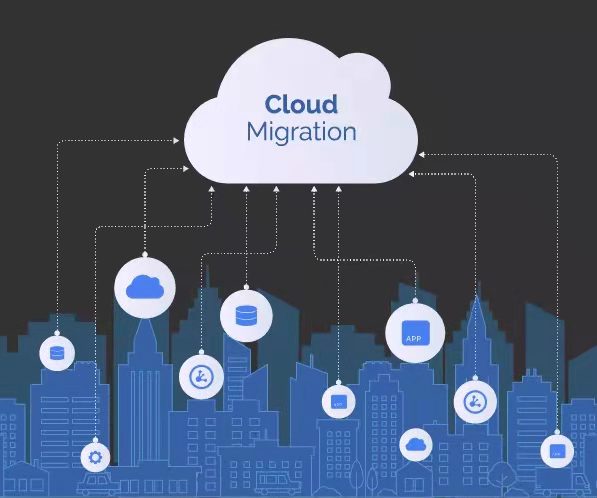 Benefits of migrating to the cloud
There are many reasons to move to the cloud. The cloud can improve your business in the following ways:
Increase movement speed and response
The cloud allows you to quickly respond to new opportunities or changes in the market.
Enhanced collaboration
With the cloud, employees can easily share files and work on projects together from anywhere in the world.
Lower costs
Moving to the cloud can save your business money on hardware, maintenance, and energy costs.
Increased security
When done right, migrating to the cloud can actually improve your security posture by taking advantage of the security features that cloud providers provide.
What are the types of cloud migration?
As your organization prepares to migrate to the cloud, it is essential that your IT team maintain a comprehensive view of all infrastructure components and options available for migrating each workload. The better you understand what you're working with, the easier it will be to plan and execute the project.
Migration of complex IT systems should be done incrementally. Taking an inventory of the systems and applications in use is the first step in developing an actionable cloud migration plan. Next, you must select specific types of migration to the cloud to perform with each item.
Re-hosting ("up-and-go")
This type of migration is the simplest and fastest way to move your workloads and applications to the cloud with minimal changes to your on-premises infrastructure. Often used as a first step in migrating to the cloud or for organizations that are not yet ready to reconfigure their applications, re-hosting can be completed quickly and without disruption to your business.
It's a low-risk way to move to the cloud because you don't make any changes to your application or workload.
Re-platform ("Upload and Additional Transfer")
Re-platform is similar to re-hosting in that it involves moving workloads and applications to the cloud with minimal changes. However, re-platform also involves making changes to the application architecture to take advantage of cloud-native features and services. This can include things like dynamically increasing or decreasing size, adding high availability, or automatic scaling.
This type of migration is often used for organizations that want to update their applications and improve performance. Re-platform can also help you optimize your applications for the cloud, making them more efficient and cost-effective.
Also, you can take advantage of cloud features and benefits that can help improve your business, such as automatic scaling and high availability.
rebuild ("cloud native")
Refactoring is a more complex type of migration that involves changing both your infrastructure and the architecture of your workloads and applications. This means rewriting the code and redesigning the architecture, data storage, networking, security, scalability, availability, and more. It is often used for organizations looking to completely transform their business with the cloud.
The redesigned application is specifically designed for the cloud and can take full advantage of its features and benefits, and you can improve performance, efficiency and cost-effectiveness with a well-designed cloud application.
hybrid cloud
A hybrid cloud is a combination of on-premises and public cloud services with orchestration and automation between the two. This type of migration is often used by organizations that want to keep some workloads on premises for compliance or security reasons, while still benefiting from the flexibility and scalability of the cloud.
Hybrid cloud gives you the best of both worlds - the flexibility and scalability of the public cloud, with the control and security on premises. Also, you can keep sensitive data on-premises while still leveraging the public cloud for less critical workloads.
conclusion
When using the type of strategy mentioned, prioritize mission-critical services for optimization and rebuild, and handle the rest of the workload with a simple lift and turn. It can also be useful to start from some low-risk, non-critical workloads as a pilot test to help you optimize your migration when you get to critical infrastructure components.
When evaluating which strategy is appropriate for your organization's migration needs, keep in mind that every migration to the cloud is unique. The above types of migration to the cloud are not turnkey solutions for every organization. These choices should serve as the basis from which the final strategy can be developed, which will be tailored to your specific business needs. To develop a successful migration strategy, we recommend looking at migration from an application-centric viewpoint rather than an infrastructure-centric viewpoint.