Enterprise content management (ECM) is a core business technology that helps organizations, regardless of their size or industry, to organize, manage and distribute unregulated content, sometimes referred to as document management or record management - It is the whole life cycle management process of enterprise content, including documents, spreadsheets, contracts and scanned images.
the aim of the ECM solution is to reduce risk, improve productivity, efficiency and customer experience by eliminating paper
tasks
and improve process visibility, and to further deepen ECM solutions and its most prominent tools, read on.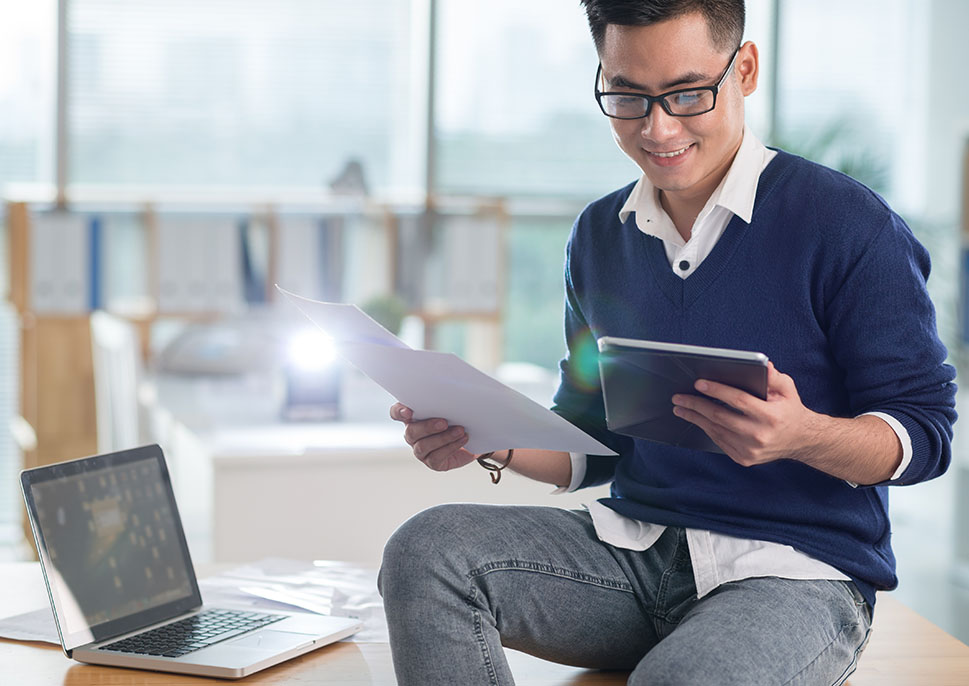 ECM Enterprise Content Management Solutions
Enterprise content management is a comprehensive term for technology and strategy, the method used to capture, manage, access, integrate, measure and store information, and the value of today's ECM solution goes beyond simple scanning, storage and recovery solutions to include all platform capabilities and strengths.
Traditionally, ECM consisted mainly of transaction
content management
, a recording system for managing process-related documents, but transaction content management, often associated with business processes that help drive actions and decisions, is just part of enterprise content management and another term under its umbrella.
First-generation enterprise content management solutions no longer fully reflect how users create, use and interact with information And that's why the term evolves into content services, where a successful content services approach helps you address changes in technology and the way we work and combating information silos by providing the right information to the right people in a timely manner, This is what
DocSuite
ECM provides.
ECM Advantages
The ECM solution has many benefits, not only for users, customers and partners, but also for your IT team and your entire business, the most notable of which are:
ECM facilitates your digital transformation process, thus digitizing your paper processes, in order to maintain your long-term competitiveness.
ECM enables information for all users, so they can respond to requests and process transactions more quickly.
The ECM platform meets a high level of customer requirements and expectations, from quick and professional responses to inquiries, purchases and emails, to customer question responses.
ECM enhances staff performance, strengthens collaboration, improves product and service quality, enhances information security, accelerates value creation and has a positive impact on efficiency.
ECM uses flexible search tools to locate information in seconds using any set of keywords, phrases, addresses and much more.
ECM protects your records safely and controls access based on permissions while tracking who has displayed or modified a document.
ECM develops specific and automated processes while notifying users of the required procedures and tracking related activities.
5 Tools for ECM Corporate Content Management Software
ECM's Corporate Content Management Software provides users with 5 effective tools to make the most of ECM, namely:
1. Electronic signature
Electronic signature refers to a number of processes through which a document can be digitally signed, the use of electronic signatures is a usual practice these days because it is now considered legally valid in many situations, the signature service of the "
Fekrait
" corporate and enterprise content management program DocSuite ECM ensures that your documents are signed digitally by an authorized service provider.
Using digital signatures, you can cut a number of unnecessary steps which significantly reduces the risk of human error in the process, the signed document will not be digitally misplaced and, most importantly, the transaction awaiting signature will not be suspended for days as the document moves from place to place.
2. Invoice Processing
Manually processing invoices takes a long time, and requires many employees to take care of documents during the process and risk losing
data
or entering errors along the way, When switching to ECM that facilitates automated billing processing, your company greatly saves the expenses associated with manually managing data, With bills now moving through the process without human intervention, let alone that you can take advantage of early payment discounts as well.
3. Customer Relationship Management (CRM)
Connecting CRM and ECM systems improves the efficient storage and retrieval of client documents , such as letters, emails and bills, through ECM integration All archiving and indexing processes are done automatically in order to always obtain structured data for better exploitation, The ECM solution also saves a digital copy when printing the paper letter and automatically catalogues the document for easy retrieval and pick up the company name, invoice number, etc., using ECM You can create a reliable
digital
archive with consistent metadata, without extra work. by staff.
4 . Your Email System
If your company uses Microsoft Exchange or Outlook, each employee's email folder is a silo of information, the information in these emails cannot easily be shared other than redirected to everyone interested or not, but ideally, the emails related to the entire organization should be placed in a central document set, where they are easily accessible.
The integration of
DocSuite
ECM from "Fekrait" software, with your email system allows users to selectively archive incoming and outgoing messages, for incoming emails, simply catalogue them and send them to your ECM system. This folder is monitored by ECM system, and automatically stores and catalogues email.
5. Enterprise Resource Planning System (ERP)
Regardless of your area of activity, ERP is the most important integration tool with ECM because it is a channel for all information from the accounting package, this integration with ECM provides many ways to streamline accounting processes.
For accounts receivable, for example, you no longer need to print paper invoices and then save
digital files
separately, instead, simply print them by default, for ECM to distribute them to the customer via email or paper document while storing a legal copy automatically.
For accounts credited, ECM integration provides an effective way to obtain information in your ERP system, for example, during your point of contact approval process, you may have already entered a lot of information, such as supplier name in invoice, invoice number, lump sum, etc.
Conclusion:
All companies share the need for a platform to store and protect their information, and make it available to employees as quickly and easily as possible, so if you also want to make this process as effective as possible in your organization, it makes sense to choose an ECM content management solution.
Other topics:
References
2. <<
How to manage unstructured data using an ECM system
>>،
techtarget
.