Digital transformation refers to IT modernization, digital improvement, business process reinvention and adaptation of digital marketing methods to reach a wider audience Simply put, it's the process of integrating digital technologies and solutions into every business area,
Digital transformation
has become compulsory for companies to succeed in today's market, It's a multifaceted process that helps improve business efficiency and agility to enhance customer experience, unleash value for different business entities, and to learn more about the benefits of digital transformation, read on.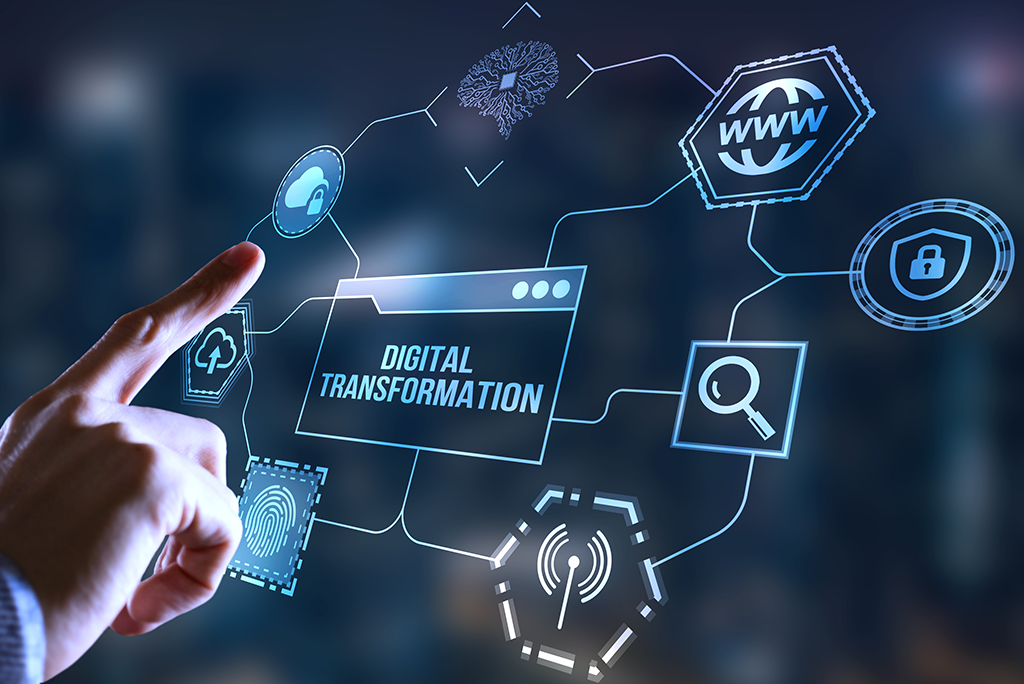 What is the goal of digital transformation?
Driving a company's digital transformation is not limited to the use of technologies for tasks that are always done using analog or traditional methods, on the contrary, digital transformation requires the company's efforts to focus on deep change of management, productivity, business and marketing operations of an enterprise. So these transformations affect the company culture, the way workers perform their duties, and of course the experience you can offer your customers.
In this sense, the aim is to introduce a company into the digital environment to strengthen its activities, increase its productivity, generate better solutions and focus its attention on solving the typical technological problems of the digital age in which we live, but this is possible only through the application of digital technologies and integrating them into the company's core.
What are the main benefits of digital transformation?
Here are ten advantages of digital transformation business you can't afford to lose:
1. Increases customer satisfaction
Customers usually want personal services that meet their individual needs, want things to happen automatically and don't want to engage with humans to perform tasks such as access, update, deactivate and reactivate software, one of the clearest advantages of digitization at work is that you will be able to implement powerful digital tools and strategies. These digital processes directly increase customer satisfaction.
2. Data-based insights lead
One of the most important benefits of
digital transformation
is that your business will be able to collect and analyze data that you can convert into actionable and income-generating insights in the past, your data was scattered across multiple unconnected platforms. Or worse, you may not have collected and used the data at all that will enable the digital transformation of data aggregation vigorously. data ", central data storage, development of data analysis tools and translation into information that promotes informed institutional decision-making.
3. Enables streamlining of programmes
All business leaders today know that they must shift from a product-focused approach to a software-focused approach and that software liquidation gives companies the best return on investment, however, many companies stop working because they don't know how to operate software liquidation engines.
Digital transformation enables software filtering, you should use a software management solution to create a digital framework to transform your company's software, where the digital framework will help you identify new revenue streams, create software licenses, protect your licenses, interact with your customers, and access important business data.
4. Enables a high-quality user experience
High value companies realize that they not only offer products, but also provide expertise, as digital transformation enables beautiful and easy experiences based on automation, artificial intelligence and self-service tools, you must prove that you have mastered the digital age by providing customers with a series of smooth user experience.
5. Encourages collaboration and improves communication
To drive innovation and production, you must have a digital platform that promotes communication and collaboration across all internal departments. Digital transformation will eliminate circular communication, redundancy, slow response times, lost information and ineffective sharing of ideas. When you digitize your company's internal communications, you will increase productivity, accountability and creativity, and gain the advantage needed to overcome competition.
6. Increases agility
According to a survey conducted by a global company in 2017, only 8% of respondents said their current business model would remain economically viable if their industry continued to shift to digitization on its current trajectory and speed. This means that 92% of companies recognize the fact that the ability to change and flexibility is key to survival in the ongoing period of intense digital transformation product change, previously reliable revenue streams decrease, and customer demands vary greatly from just a few years ago.
Solved? is to adopt digital transformation strategies, thanks to the power of the digital
business
environment, your company will be able to anticipate challenges and proactively build solutions so that you can survive for years to come.
7. Limits human error
An undeniable advantage of moving to the digital system is that digital processes stop errors by eliminating time-consuming manual data entry, human inefficiency, and digital processes are inherently smoother and less dangerous than any process involving error-prone humans.
8. Promotion of the distinguished employee environment
An important factor in a successful digital transformation is getting widespread support for the company. You need to create an institutional culture through which the importance of digital transformation is demonstrated. To obtain employee approval, invest in digital education for your workers, host in-house webinars and participate in conferences, and send your employees to courses that will update their skill sets. Exceptional employees are your greatest asset, so don't underestimate the value of investing in their growth.
9. Increases operational efficiency
Digital transformation gives you increased operational efficiency, you can integrate messy manual processes and reduce overhead costs by integrating with back office systems,
Automate deliveries
and product updates, enable inter-device activation, Managing multiple product variables, and more, using digital business processes business ", will save time, close revenue gaps, and reduce frustration, because digital business is synonymous with effective business.
10. Enables future digital growth
The ultimate benefit of digital transformation is the most important. Digital transformation is the initial measure that paves the way for subsequent business growth, without investing in business digital transformation, your company will quickly become obsolete. In the past few years, we have seen the bankruptcy of industry giants such as Blockbuster, Toys R'Us and Kodak, why? Because they have failed to digitize, digital transformation is not optional, to survive the digital tsunami that has swept the world, you must take steps to transform C once you do, and it will reap the benefits of digital transformation and become stronger and more profitable for the years to come.
Summary:
While everyone agrees that digital transformation is critical to the success of all modern institutions, no one claims that digital transformation is as simple as this. Digital transformation is multifaceted, complex and full of challenges that can make a more experienced entrepreneur all about it. If you need some encouragement before embarking on a digital transformation journey, check out the advantages of the previous transformation significantly, these benefits are very fundamental to the success of any modern business.
Important Topics
Reference
1. <<
Top 5 Barriers to Digital Transformation
>>,
LinkedIn