E-Document Management System provides organizations with many ways to increase their productivity business ", such as improving their processing of accounts payable, streamlining manufacturing processes or helping companies digitize their business, Document management is becoming increasingly important, as organizational processes require faster access to information. However, this is a very difficult task, since managers make decisions based on data This process cannot be ignored, so, in today's article, we will learn about the most important challenges of implementing the electronic document management system.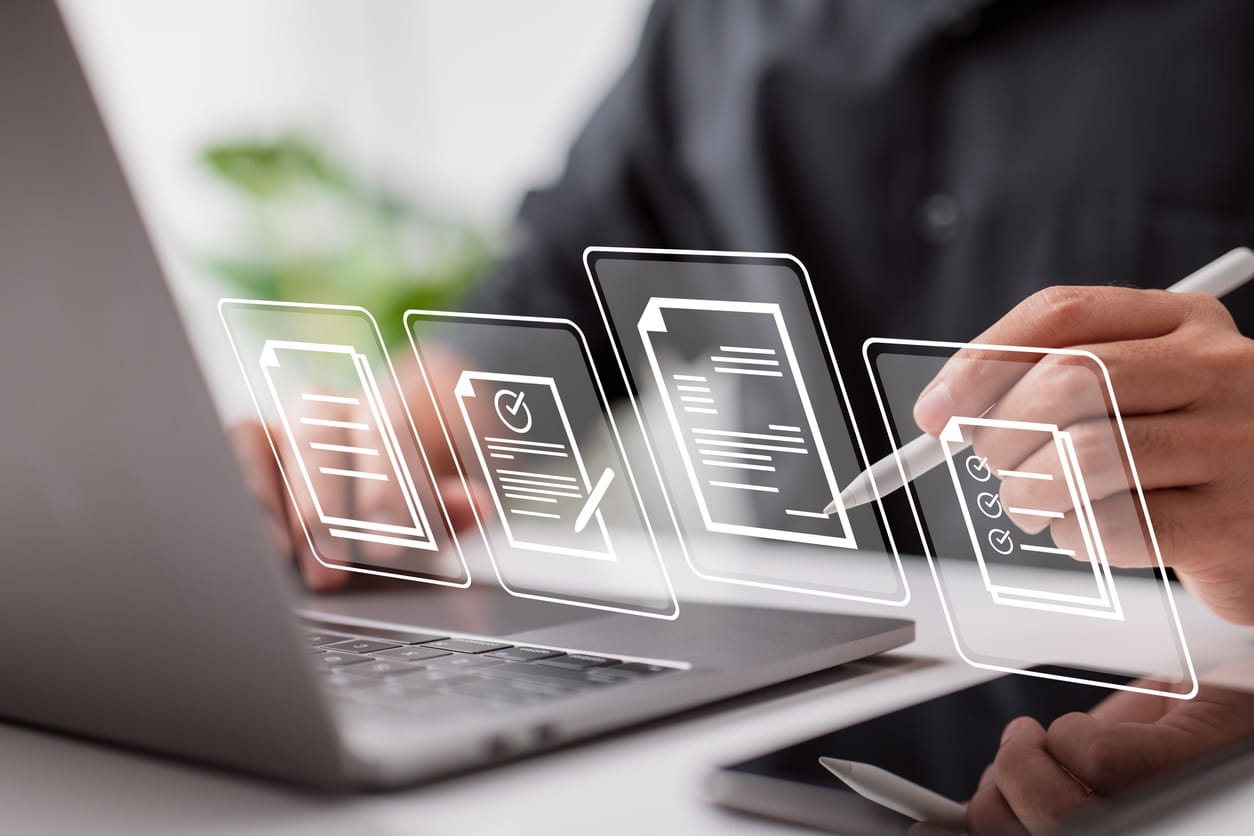 What is the electronic document management system?
EDMS is a software system for organizing and storing various types of
documents
, this type of system is a more specific type of document management system, a more general type of storage system that helps users to organize and store paper or digital documents.
EDMS refers more specifically to a software system that handles digital documents, rather than paper documents, although in some cases, these systems may also handle scanned digital versions of original paper documents.
The electronic document management system provides a way to store a large volume of digital documents centrally, and many of these systems also include features for efficient document retrieval, such as the
fekrait software
enterprise system.
Benefits of the Electronic Document Management System
The benefits of EDMS include improved document processing, improved data access, simplified file searches, low document management costs and, in addition, the benefits of EDMS we find:
1. Improved document handling
The primary purpose of the electronic document management system is to manage your organization's digital documents efficiently and expeditiously at the lowest operational costs. This helps your team members update each file they are responsible for and stay on track with their
projects
, including those in a variety of locations.
2. Improved accessibility
The electronic document management system gives you access to your files even on the go, you can use them on any computer, smartphones and tablets, so that you can make adjustments immediately at any moment.
3. Simplify file search and retrieval
The electronic document management system facilitates the organization, search and modification of files to facilitate the painful process electronic document management software ", where most electronic document management software contains optical character recognition technology, To improve the searchability of files based on their characteristics such as name and keyword can also be submitted under several references such as name, date and
document number
, This accelerates the document recovery process through the full text search box and index categories.
Key challenges and solutions for the implementation of the Electronic Document Management System
Companies and institutions face a range of challenges in implementing the Electronic Document Management System (EDMS), perhaps most notably:
Digital file management chaos
Most organizations rely on individuals to handle their digital documents in the absence of a document management system (DMS), this may result in a variety of concerns, including a problem with finding documents, working on inactive document versions, going beyond other people's changes, and replicating content spread across many sites.
Solution: Developing a global strategy in the electronic document management system, which sets the criteria for filename, document reviews, storage and access is the best way to address this difficulty, and this is what you find in document and document management systems from an fekrait Software Enterprise
Time consumption in document processing
Paper documents are usually associated with a great waste of time. Maintaining, storing, researching and enabling cooperation is expensive, and organizations lose strength if they continue to rely on paper documents for daily operations.
Solution: Consider the amount of time lost during the time of writing, editing, licensing and interdepartmental participation of the document, and know that in return the implementation of the electronic document management system will simplify document processing as much as possible, and the document cycle will be significantly reduced, allowing companies to complete more work in less time.
Exchange of documentation
Sharing a document with multiple parties can take a long time if you have to communicate with each individual person, but you don't have to waste that much time sharing documents.
Solution: Google Drive, for example, is a great tool to share the same document with multiple users at once, all you have to do is upload the file and get the link to share, and everyone who will get the tool will be able to see or edit the document based on your settings.
Security
Document security is crucial these days, especially if your papers are digital, and your official papers are likely to contain a lot of sensitive business or customer data that must be kept securely, also keep in mind that cybercriminals not only target large companies, but also
small businesses
.
Solution: Once again, EDMS can help keep your documents safe from hackers and accidents, and electronic documents can be protected in thousands of ways using security software, security tools and antivirus software. In addition, electronic documents can also be backup in the cloud so that you're sure they won't be completely lost no matter what.
Other solutions to meet the challenges of implementing the electronic document management system
1. Select Management Software
Managing documents manually becomes a risk for your company when there is a large flow of information, so automating this process is an increasingly necessary step, thus analyzing your business needs, looking for more compatible e-document management software options (such as what Fikra Software Systems and Software provide), and asking for demos and experiences from solution providers.
It is important to assess the simplicity of using the solution and key functions that will facilitate the team's life, including automatic notifications in the event of changes or expiry of documents, access controls and
storage security
, among others.
2. Establishment of a document management team
As much as there is automation of some activities, people are still interested in the correct registration of documents and information, for good results, it is necessary to have a team of organized, detailed and committed people, and therefore, the team contributes to the continuous consolidation and improvement of operations.
In the case of document management through an e-document management software from the fekrait Software Foundation, the training process for the team will be generally simple.
3. Monitoring and dissemination of knowledge within the organization
If we need people who are committed and organized in using the electronic document management system We also need to develop a company culture, ideally. When people gain new knowledge, they also share it within the organization. Knowledge management is very important for documenting and sharing experiences, and ultimately it is a combination of different skills that come with sudden and sector-related solutions. s intellectual property, which contributes to its sustainability.
4. Instantly retrieve information
Over the course of each year, companies typically go through many accounting audits and audit management systems, inspections, which require rapid recovery of documents and information, to provide evidence of compliance with standards and legislation.
In this case, the company needs to organize and catalogue documents from all sectors, it also needs to scan them to reduce processing, degradation and the likelihood of loss, finally, the company must adopt electronic document management software, in order to facilitate consultation and access to information.
Another important point is that by automating this process, the cost of retrieving information is greatly reduced and the cost of not retrieving information, such as fines, assessments and audit follow-up.
5. Protection of documents and information
The main list of documents needs to be protected to avoid unnecessary access by internal and external persons and to provide file evidence in legal proceedings, using the electronic document management system of a software enterprise, access to and protection of documents can be restricted in secure databases.
Conclusion:
Effective management of the electronic document management system is perfectly possible, when the company receives support from a good software and a team that recognizes the importance of maintaining a structured and easily accessible collection of documents.
Important Topics
Reference