All companies are looking to increase their efficiency and find a way to stay ahead of the competition. However, inexplicably, many companies don't know how to achieve this. With the advent of digital services, and newer technological advances in document management solutions, companies need to act quickly to gain a competitive advantage, how? Read on.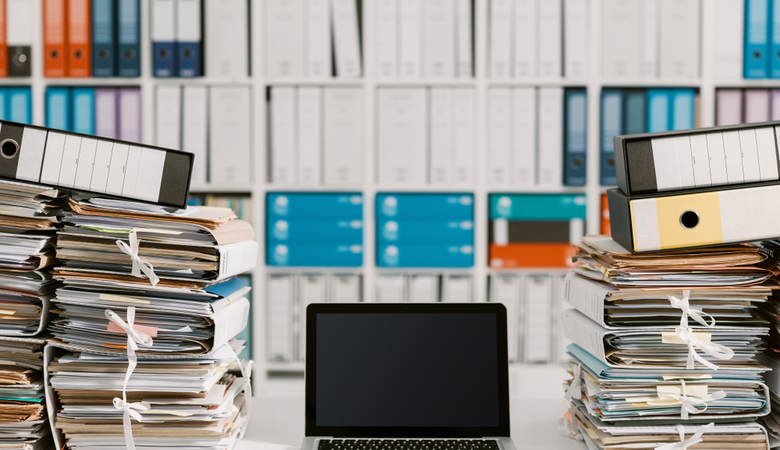 How does the document management system give companies a competitive advantage?
The document management system can become a good management solution, let's take a look at some of the key benefits you can expect from the document management system:
1. Bring products and services to the market faster
Document management automation makes everything happen faster, this means you can collect the data needed to make improvements to the product or service, Or accelerate the development or acquisition of goods or services in the hands of your customers faster best-in-class
companies
compete for their competitors through their ability to bring the newest and largest to the market before their competitors, through an effective document management system.
2. Cost reduction due to increased efficiency
The more money you save by getting rid of paper storage and increasing efficiency more money you can invest in a professional document management system, Encourages you to think about some ways in which capital can be used more strategically Reinvesting money in things like improved document management software and systems puts you miles higher than your competitors who still pay for file cabinets and paper folders.
3. Increasing visibility and making more strategic decisions
Today's companies are fast-moving and very technically intelligent, this means that being more strategic in business decisions is important not only to stay on track, but to outperform your industry competitors, and by accessing abundant amounts of data and automated solution to ensure that
this data
- Organizational and unstructured - Received, structured and carefully indexed through the document management system, you can be sure that you have the information you need to make the most calculated and thoughtful decisions for continued growth going forward.
4. Growth and Expansion Opportunities
The best and most competitive companies go beyond accounts payable and look for other ways in which business operations can be automated. These are all places where business
process automation
can shine and make your company innovative and effective, giving you support for companies that limit the use of their document management solutions.
5. Secure Documents
Not distributing documents on different devices means there is no way to control who reaches this document and when, for this reason, a secure document management system comes to protect you, as you have to decide who has access to any file.
6. Easy Access
The document management system with automatic release of files, identification data, custom identification data, audit record, can easily control the document, everything is within reach, the owner of the process is clearly defined and specified, no amount of time will be wasted tracking the file, and audit records will track who had
access to the file
and when.
7. Beat competition flexibly
The document management system is reliable, fast and effective in terms of time This translates into productivity that your company will benefit from without having to give up scalability, The document management system is inherently scalable because it does not need to rely on space or a certain number of staff to work If your operational needs increase, the document management system will do so easily. This will allow you and your company to allow time and energy for other areas of success.
8. Improved regulatory compliance
Compliance requirements for certain documents can be very complicated, lack of conformity can lead to fines, cancellation of licenses and, in some cases, to criminal liability, regulations impose strict
security
and privacy guidelines. The document management system reduces the risk of non-compliance, for example, records retention schedules can be automated, and new documents can be classified and stored more easily.
9. Reduce storage space
As well as the cost of storing paper documents, a software-based document management system that can reduce the need for file cabinets, boxes and storage boxes is a valuable asset for an enterprise, providing valuable office space, often documents that must be kept as hard copies can be stored in less expensive locations, such as an off-site warehouse or basement.
10. Enhanced audit and document tracking
The document management system maintains a comprehensive audit record of all activities, folders creation processes, folders deletion, document creation/displays/editing/deletion and much more are automatically tracked, you can
automate overlooked tasks
easily such as document review to ensure their relevance and accuracy, the ability to automatically remind users to verify documents and procedures is important to maintain your competitiveness.
11. Enhancing staff productivity
Employees can easily avoid downtime through the document management system when documents are organized, indexed and accessible digitally, whether the presentation, review or progress of the approval process ", everyone has easy access to and cooperation in centrally stored documents, Furthermore,
cloud document management
systems with automated workflow capabilities can enhance collaboration and reduce the time taken to work with or share documents.
12. Facilitation of editing and issuance
When many employees are able to work on the same document at the same time in large companies, functions such as editing and issuing versions are necessary, one of the benefits of an electronic document management system is the ability to track changes to a particular employee, as well as store multiple versions of the document, in case the original needs to be accessed.
According to research, 83% of the workforce wastes time due to issuance issues, so the document management system not only helps avoid serious problems in business operations, but also helps save time and redirect employees' productivity.
Conclusion:
Today, customers and suppliers are looking for immediate satisfaction. Your team looks to complete tasks more efficiently and accurately. Through effective document management automation, you can deliver services, information and data faster and smoother, meeting the needs of customers, suppliers and
employees
, and giving you a competitive advantage by aligning your business processes with the needs of people inside and outside your organization.
Important Topics
Reference