What is project management?
Project management is the application of processes, methods, skills, knowledge and experience to achieve defined project objectives according to project acceptance criteria within agreed parameters. Project management has end deliverables constrained by a limited time scale and budget.
The main factor that distinguishes project management from just "managing" is that it has this final delivery and a limited duration of time, unlike management which is a continuous process. This is why a project professional needs to have a wide range of skills; Mostly technical skills, and certainly people management skills and good business awareness.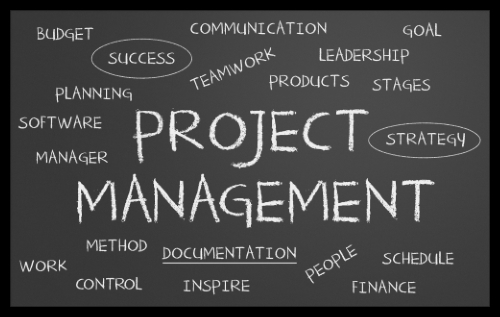 what is the project?
A project is a unique, transient endeavor, undertaken to achieve planned objectives, which can be defined in terms of outputs, outcomes, or benefits. A project is usually considered successful if it achieves the objectives according to their acceptance criteria, within an agreed timeline and budget. Time, cost and quality are the building blocks of every project.
Time: Scheduling is a set of techniques used to develop and deliver schedules that show when work will be performed.
Cost:
How is the necessary funds obtained and managed funds?
Quality:
How will the fit-for-purpose of results and management processes be ensured?
Five phases of project management
The project management process is usually broken down into separate phases that take the project from start to finish. These stages include:
The initiative
Planning
execution
Monitoring and control
ending
These phases often overlap with the project life cycle. They can help you determine the correct flow and sequence of processes to finish your project. Our project management checklist can help you break down tasks for each stage of the project.
1. Start the project
Initiation is the official start of the project. It usually begins with the question of the project authorization, which briefly describes the purpose of the project and authorizes the expenditure of the budget.
At this point, the project must be defined at a broad level. This often starts with:
Feasibility study - justifying the need for the project and estimating the potential benefits
Feasibility Study - Evaluate the problem and determine if the project will solve it
If you decide to implement the project, you must then create a Project Initiation Document (PID). This is the foundation of your project and an important reference point for the next phases. The main components should be:
your business status
Project objectives, scope and size
Project organization (identifying the "who, why, what, when and how" of the project)
Project limitations
Project risks
actors
Project controls and reporting framework
Project closing and evaluation criteria
2. Project definition and planning
Project planning is the key to successful project management. This stage usually begins with goal setting. The two most common approaches include:
SMART (Specific, Measurable, Attainable, Realistic, and Timely)
CLEAR method (collaborative, finite, affective, estimable, reviseable)
At this stage, you will also define the scope of the project, develop the project plan and schedule for the division of labor. This includes specifying:
The time, cost and resources available to you
Project roles and responsibilities
Quality
Milestones
Core performance measures
Progress checkpoints
Risks and resources to solve unexpected issues
During this stage, you may also want to develop a communication plan (especially if you have external stakeholders), as well as a risk management plan.
3. Project launch and implementation
Implementation (also called project implementation) simply means putting your project plan into action. It often begins with a "kick-off meeting" for the project.
During this phase, you will implement the tasks and activities from your project plan to produce the project deliverables. For example, if you are creating a promotional package for a trade show, early deliverables might be gathering product and pricing information, completing all photographs of your product and getting them signed by the customer.
Project managers can direct this work by:
Supervision of a team
Budget and resource management
Communication with stakeholders
Careful monitoring and control at this stage can help you keep your project plan on track. You can use a range of tools and processes to help you manage things like time, cost, quality and risk, or to inform progress and manage customer acceptance.
4. Project monitoring and control
Monitoring and control often overlap with implementation as they often occur at the same time. They require measuring project progress and performance, and dealing with any issues that arise from the day-to-day work.
You can use Key Performance Indicators (KPIs) to determine if your project is on track. Things you can measure include, for example:
If your project is on schedule and budget
If specific tasks are completed
If the issues are addressed appropriately
During this time, you may need to adjust schedules and resources to ensure your project stays on track. Learn how to measure performance and set goals.
5. Close the project
During this last stage, you will complete your work and solve the project. Closing does not necessarily mean success, but simply the end point of a project - for example, shutdown can occur when projects that fail are cancelled.
Project closure often includes things like:
Output delivery
Release of personnel and resources
Archive or deliver any relevant project documents
Cancellation of supplier contracts
Completion of all activities throughout the project
Prepare final project budget and report
Delivery to business as usual if applicable after closing.
You may conduct a post-implementation project review (sometimes referred to as a "post-mortem" meeting). This is an opportunity to take stock of what went well and what didn't. Understanding failures, if any, can help you learn lessons and improve the way you implement future projects.