Investments in cloud-based document management systems among companies are growing s work ", motivated by the need for greater efficiency, as organizations realize how the functioning of automated and digital documents paves the way for improving the final outcome of their work and the creation of dynamic documents that facilitate real-time editing and cooperation not only increases productivity, It enhances the employee's experience better, and other features of document management, especially cloud-based, are recognized in our article for today, read on.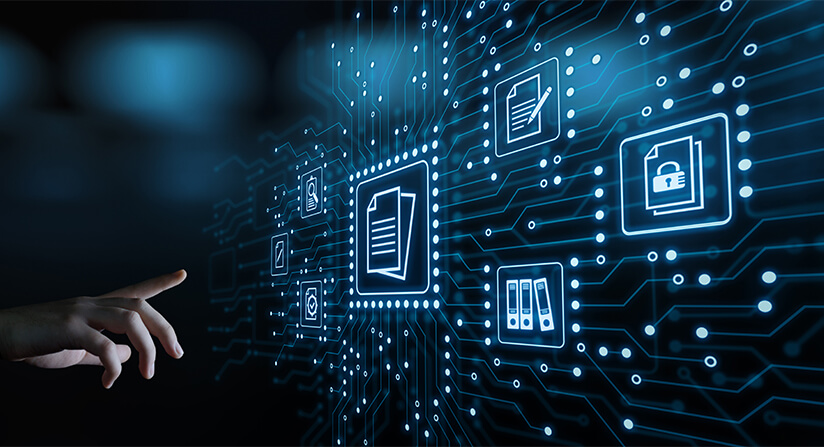 Cloud Document Management System
Document Management System is a software used to store and share documents within the company, creating easy access for operations, and this
business process
provides a central location for storing paperless documents, files, web links, reports, and other kinds of rich media.
Importance of cloud-based document management
Cloud-based document management is an attractive concept for some industry sectors, especially for companies looking at issues such as:
Infrastructure costs
Capital
Protection
Central storage and management
User access including remote staff
However, since not every popular software keeps full desktop functionality in the
cloud
, It's also worth asking how your team works in the cloud every day In addition, premise-based document management solutions are not always what every company needs. The management, storage, retrieval, indexing, distribution and security of documents is complex and may cost money, SMEs may not be able to afford such large expenditures.
Fortunately, many solid cloud document management options outweigh the premise-based approach in many ways, so, no matter what cloud-based document management system you choose, the cloud-hosted solution has great advantages for your business and enterprise.
Highlights of cloud-based document management
Using a cloud-based document management system, your team can access documents instantly, from anywhere and from any device, not only this but other important advantages of cloud-based document management, including:
1. Increased cost savings
New servers and computers and disk space are expensive for their owners, in return using cloud-based document management system, The organization's current equipment eliminates the need for high-power
servers
or complex on-site structures In addition, monthly charges for cloud document management are usually much lower than costs associated with traditional hypothesis-based solutions security ", such as server upgrades, operating system upgrades, server maintenance, security infrastructure and uninterrupted power supply.
2. Enabling rapid deployment
Cloud-based document management gives organizations flexibility to customize and/or upgrade as needed, for example, tourism companies will always have access to the latest version of the DMS as upgrades and updates are automatically available from the Cloud Document Management System.
3. Improved accessibility
Cloud software is available anytime, anywhere, all the customer needs is an online accessible device for document management almost everywhere, document sharing and collaboration is much easier and more accurate with cloud-based document management.
More advanced solutions also allow
metadata
marking to help organize and retrieve documents faster, and simultaneous editing check-in procedures prevent while allowing group access to individual documents, as well as multiple versions of documents can be shared, dated and easily accessed via cloud-based document management.
4. Digital Documents Management
Gone are the days when your company needs to store all its documents in file cabinets, where simple digitization of legal documents allowed companies to reduce storage costs, but now that cloud technologies like Dropbox and Box.com are maturing,
legal practice management software
that integrates with these technologies can reduce your company's expenses associated with IT infrastructure.
5. Retrieving simplified legal documents
An effective legal document management system will regulate your digital records according to legal matters, allowing immediate access to documents, reducing the time and money spent on legal document retrieval, with a cloud-based legal document management system.
6. Securing legal documents
Digitization of legal documents has increased the ability of law firms to secure their legal documents,
cloud
legal document management systems allow specific authorizations to be assigned to documents, while increasing the ease with which documents are shared between lawyers, and by passing legal documents in the cloud, your company will also reduce the loss of documents.
7. Legal documents management as part of the practice management system
To increase the effectiveness and benefits associated with the legal document management system in the cloud, the legal document management system becomes part of the larger legal practice management software solution. By integrating legal document management with the rest of the legal practice management system, you can manage all your documents directly from the dashboard and save all documents in a format consistent with
invoices
, calendar, tasks and workflow.
8. High Level Safety
It can be difficult for a small company to provide the same level of document protection as a cloud-based document management system, where document management systems, for example, use passwords and group permissions to control access to documents while also auditing all activities.
9. Automation of workflow
Cloud-based document management systems are specifically designed to guide documents across different stages of a project or task seamlessly, once repeatable
workflow
is determined, file passing between departments and employees occurs automatically.
10. Improving disaster recovery
Traditional systems can make disaster recovery more difficult in particular for large multi-asset and multi-site operations, on the other hand workplace systems require manual backups and regular time periods, What's more, this information is almost impossible to access in a closed or completely remote situation, Conversely, a cloud-based document management system can help
organizations
access their information from anywhere and at any time - thereby increasing resilience to crises.
Conclusion:
Noteworthy also allows the company's document management system to create a predefined storage and indexing method and therefore, all files created and stored on the system respond to a whole series of functions such as filtering and sorting, In addition to simple search functions, the cloud document management system as a data storage and
information
management system on the Internet, It can be a game-changing app for many companies today.
Important Topics
Reference