Compliance automation, also known as automated compliance, is a category of software applications that use AI features and techniques to streamline compliance procedures. These applications provide organizations with compliance workflow capabilities, including self-assessments, control analytics, corrective process planning, and control testing. By automating
these processes
, compliance automation replaces immediate checks.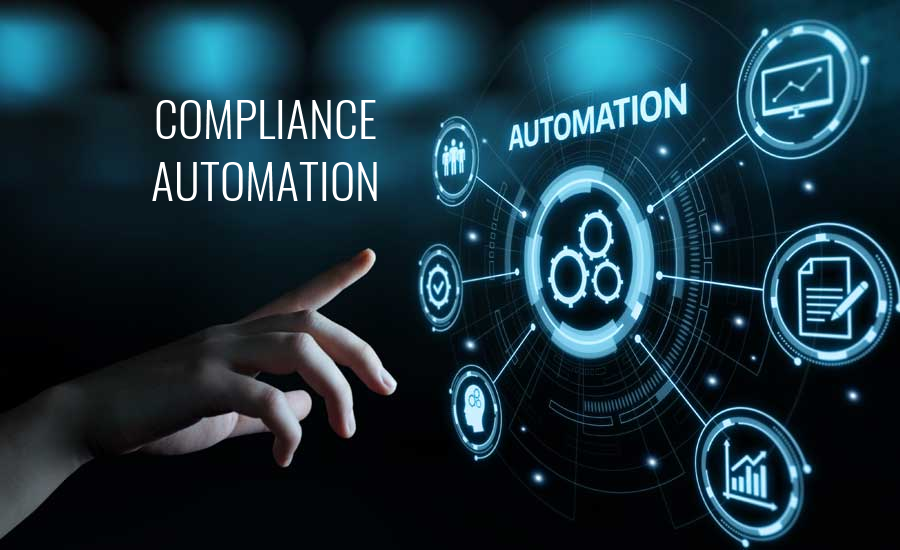 How does compliance automation work?
Tools that monitor compliance begin by receiving enterprise safety policies, whereby any regulations relating to the company's industry, configurations, accounts, inventories and
security
measures are copied into the compliance automation program in order to detect violations, and compliance regulations and safety standards can be changed or updated at any time.
Compliance automation is useful for integration into organizations that process sensitive information, such as hospitals or banks, or that must adhere to a set of rules and standards when protecting customers' data, laws and regulatory requirements are constantly updated, making compliance automation more productive, simplified and accurate for internal auditors and senior management.
Benefits of compliance automation
Compliance automation offers many key advantages that make it the preferred choice for enterprises, including:
1. Improved precision
Compliance automation provides unavoidable working conditions for human error, whereby all documents are coordinated according to your instructions, this makes it easy to avoid costly errors that may cost you time and money in fines or legal fees.
2. Risk assessment
Compliance automation tools facilitate risk assessment, where
data-based
and accurate decisions about compliance risks and a treatment plan are easy to make using artificial intelligence and machine learning techniques.
3. Data Analysis
Compliance automation technology allows access to data that is often not captured in current manual working methods, such as email, spreadsheets and phone calls.
4. Improved Vision
Compliance and security teams, especially for large enterprises, can achieve a full view of their entire ecosystem, from
internal servers
to supply chain partners.
5. Saving time and resources
Compliance automation tools streamline many of the tasks involved in compliance management, such as documentation, evidence collection, data analysis and reporting, which helps reduce the time and resources required to manage compliance, thus allowing your organization to focus on other priorities.
Automation of compliance with document management system
The Document Management System (DMS) prevents many problems associated with compliance, as the adoption of Document Management System compliance automation provides reporting capabilities so you can detect problems before they turn into problems, it's a sure way to increase your organization's odds of going through internal and external compliance audits.
Compliance automation support capabilities are more important now when many employees work remotely If they do not have the right tools, there is a temptation for your employees to use unauthorized messaging
software and social media
platforms to do their jobs without thinking about information security. And team members can also email documents back and forth to each other that can harm security and make losing track of any version likely the last version.
Best Compliance Automation Practices for Document Management System
Institutions and companies need to look for best practices to automate compliance with their document management system in order to maintain their security. Some of the most prominent practices are:
Termination of paper dependence
Convert your operations by ending reliance on unstructured paper, electronic files or Excel spreadsheets to track or store compliance-related documents business operations based on error-prone methods such as
re-entry of information
into a spreadsheet, Especially if done by several staff, they are risky, Even if all participants do their best to maintain accuracy errors must occur, if they are not detected in a timely manner, they may be out of compliance.
Tools like DocuWare Intelligent Indexing automate compliance with these manual processes using AI-based technology, smart indexing identifies the most valuable information in the document and automatically converts it into highly structured and usable indexing data.
Strict regulatory compliance
By automating compliance with the enterprise document management system, you will have a central repository to create, modify, review, approve, store, organize, access and share documents globally in a controlled manner, tracking each document from original to obsolescence using analytics, graphic dashboards, integrated cooperation and
workflow
tools.
Increased productivity and efficiency
With a workflow driven process powered by secure digital capabilities to automate compliance, you can streamline document creation and update, always making sure to use the right templates, also you can simplify the entire document review/approval process easily, on a consistent and timely basis.
Also by complying with the document management system you can increase operational efficiency by improving access to the correct version of your information faster and more cost-effective, regardless of
platform standard
operating procedures, policies, plans, working instructions or manufacturing and production designs, The latest information will always be available and accessible, reducing time and risk.
Improved cooperation
Get rid of separate old document warehouses using a single enterprise-level system, by automating compliance with the cloud-based document management system, it is easy to collaborate and share information using preferred tools such as Microsoft, Google and BOX when creating, reviewing and updating documents.
All people allowed in your organization can see changes in real time and respond immediately through checkouts and approvals, so you can collaborate across your supply chain by including suppliers and contract manufacturers to get their input and keep them in the loop And you can improve cooperation by implementing a document management solution, And don't forget to
keep staff training up
to date using a document management system compliance automation solution.
Application of best practices
Running operations continuously across existing, newly built or acquired facilities worldwide requires a common set of processes, through compliance automation and cloud-based document control system, all your facilities always have access to the latest set of approved procedures, best practices are easily shared and standardized across the organization and new processes are constantly prepared.
Conclusion:
Today's leading institutions are looking for automated IT security policy compliance systems to enable them to meet their security needs and regulatory compliance at the same time. Automated regulatory compliance tools that can process
recurring tasks
, manage and automate the document system have proven to save a great deal of time and money for security teams and help organizations move forward with the success of their business and management operations.
Other topics:
Reference
1. <<
Security compliance automation: Your audit experience before and after
>>,
venturebeat